Story exercises are exercises where the student has to first read a story and then answer questions.
Example of a story exercise.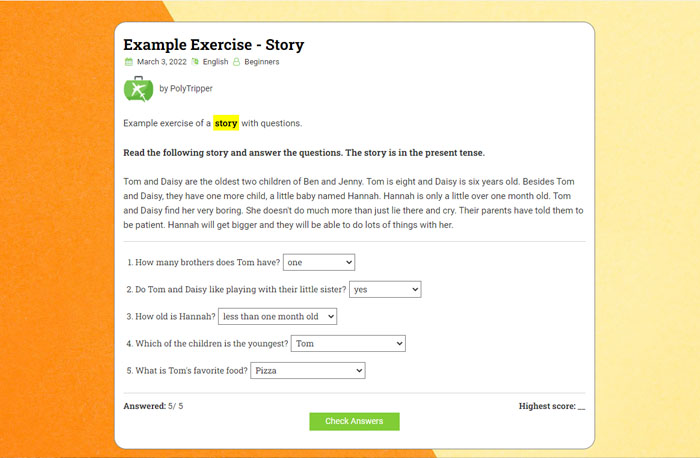 Settings
Story exercises work well with edit boxes, dropdown lists and radio buttons. In thise example we have chosen dropdown lists. You can decide which one you want to use.

Creating an Exercise
Step 1
First write the story in the description part of the exercise.

Step 2
Write your first question in the exercise part.

Step 3
Write the correct answer behind the sentence with stars * around it.

Step 4
If you have chosen edit boxes, you have to write other different correct answers behind "none", separated by vertical bars bars |.

If you have chosen dropdown lists or radio buttons, you have to add one or more incorrect answers separated by vertical bars bars | and put a pound sign # in front of the correct answer.

Conclusion
That's it! The only thing to keep in mind is that if you choose edit boxes, to make sure there aren't too many possible answers. It can be very frustrating for a student to fill in a correct answer and have it count as incorrect. And if you choose dropdown lists or radio buttons, make sure there isn't more than one correct answer. Besides that, have fun experimenting with story exercises.